What Clients Say
With clients around the world, Global Sealing Services have proven to have the expertise and range to exceed expectation. View below what some of our clients have had to say.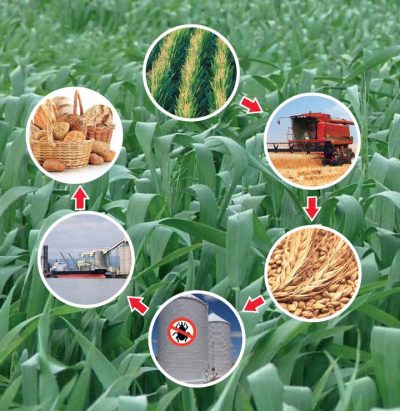 Co-operative Bulk Handling would like to acknowledge the work and products you have supplied in support of our Sealed Storage and Fumigation needs. The expertise and range of products provided by you and your team have assisted CBH in maintaining our ability to effectively control insects in all our grain within our sealed storage system. In particular, I would personally like to acknowledge your continued effort in helping to develop new and innovative sealing products and techniques for our niche requirements. The work in developing an internal sealing methodology has assisted in resolving Corella damage to our Sealed Storages and extending the life of the seal itself.
Ern Kostas - Co-operative Bulk Handling Australia
Quaker Oats Australia Pty Ltd appointed Global Sealing Services in November to undertake the sealing of 8 * 2000 bushel silos at our Forrestfield facility. Global Sealing Services professionalism was very evident from the start of the job to its conclusion. Gabe and his staff were very helpful in ensuring a minimum of disruption to our day to day activities at the site. The extra input that the team provided to come to a satisfactory conclusion to our fumigation requirements was invaluable. The manner in which the job was undertaken was in no small way attributed to the supervision the team worked under. I would have no hesitation in recommending Global Sealing Services to undertake sealing services.
John Hunter - Quaker Oats Australia Pty Ltd
The paint on our patio roof worked like magic, Xmas and Boxing days the Aircon was on half. The metal was barely warm. Thanks, I'm glad I took your advice
Peter - Residential Customer, Western Australia
Gabe, Just wanted to let you know what a great job Rob and his offsider did on our silos. Rob was meticulous with his preparation and attention to detail. The end result looks very good and will hopefully give us many years of insect free storage.
Cliff Martin - Davison & Co (Barford) Ltd, Western Australia
Just a short note Gabe to let you know that Graincorp is satisfied with your range of paints and sealing products and we have been using them on a number of different applications listed below. Flat storages and vertical bins ranging in capacities of 10,000 tonnes to 100,000 tonnes, these storages have been sealed to a pressure test standard using Global Sealing Materials, internal and external seals have been applied to these storages, this provides a good seal to fumigate the grain with fumigants. Life of the seal on these storages have ranged from 10 to 15 years and this depends on the contractor being used, we have found Global Materials and contractors to be superior to the oppositions Materials and contractors. Bunker storages which are covered by PPE and PVC Tarps are sealed with Global Tarp Seal Glomastic, the tarp joins are sealed by painting with a paint brush or airless spray gun then webbing goes onto the paint then another coat of paint goes on, this results in a good seal for fumigating the grain with fumigants. Other Global Materials that we have used is for sealing bin wall to floor joints and bin wall to roof joints and this has been successful. Prior to Global Sealing Services purchasing the business of Uniseal GrainCorp were using Uniseal products. We would be happy to show anyone some of these applications if they were interested
Ron Dawson - GrainCorp Operations Limited, Australia
Why choose us?
We have a long outstanding reputation, experience, and expertise in the grain and food commodity silo sealing industry. With our proven track record and unique brand of certified performance products, we can deliver to you the best possible outcomes. Let us be your partner of choice within Australia and overseas providing you with certainty, peace of mind and service you can rely on.